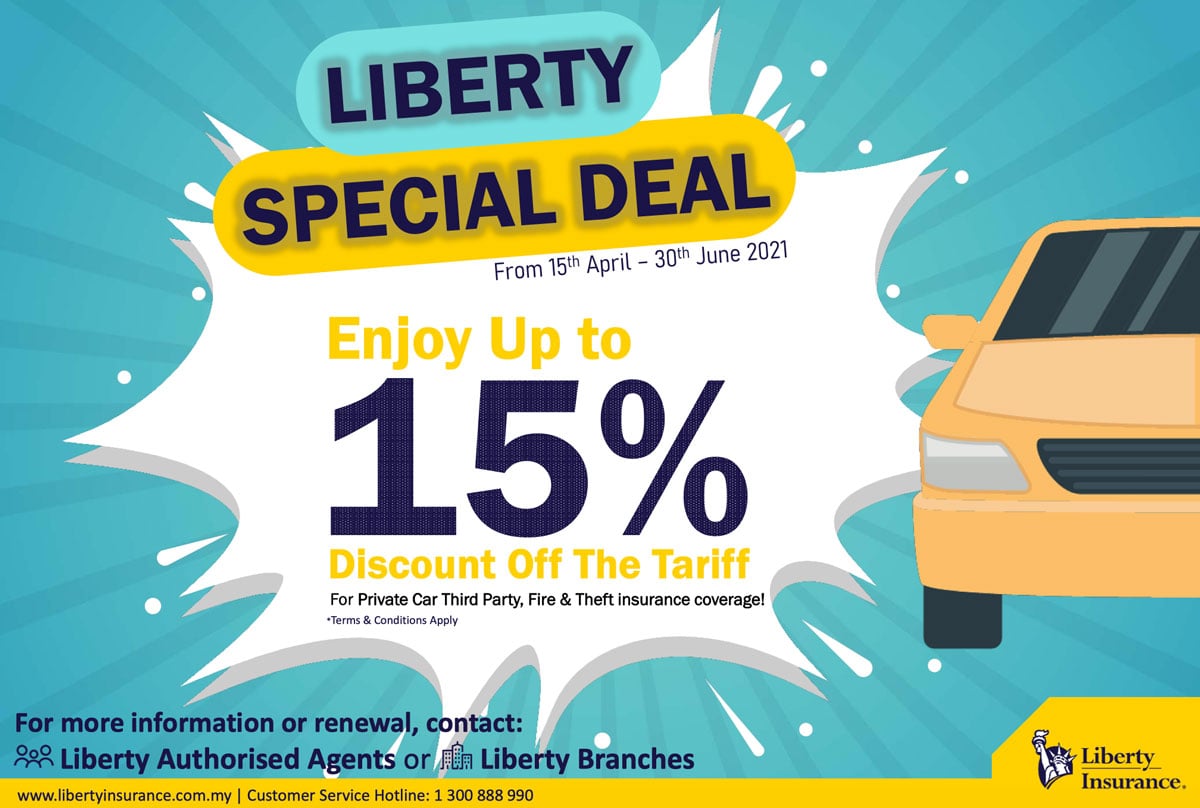 How much discount I would get?
Policy transacted during this premium relief period will enjoy up to 15% discount off the tariff from the normal rates. The discount is still subject to BNM regulation on the calculation of maximum and minimum premium that a company can charge. The premium will reflect the discount and will not appear as a separate item on the policy printing.
---
What should I do to enjoy the premium discount?
Kindly contact Liberty Authorised Agents or Liberty branches to get a quotation.
How long will this discount be available?
The premium relief period will run for a limited time starting from 15th April 2021 to 30th June 2021.
I have just received my Renewal Notice, are these the premium I have to pay?
No, there is no discount applied to the premium in the renewal notice. If you wish to see whether the relief discount is applicable, you would need to get your agent to run through the renewal listing to re-generate the discounted premium, before the premium relief period expires.
I just renewed my policy before this premium relief period but the effective dates are within the premium relief period. Can I get the discount?
Unfortunately, the policies which have been issued are not entitled for the discount.
Why is the premium this year still higher than last year despite the discount?
The premium charged is reflecting the risk that the company perceived this year. There are many factors which may contribute to the premium change. For example, driving behaviour, claims history and increasing medical and repair costs may all influence the premiums covering future period.
Can I purchase or renew policy which the effective date is after the premium relief period?
Yes, all policies are up to 90-days prior to expiry. Policy purchased within this period will be entitled for up to 15% discount.
What happens to the quotation received from my agent after the premium relief period has ended?
The quotation saved will still be in the system but the rate will need to be refreshed after the premium relief period ends on 30th June 2021. If the quotation status is saved as final, then the discounted premium will maintain through the validity period.
I have received a quotation with discounted premium. When is the latest date for me to confirm purchase?
Kindly be informed the discount is only applicable for a limited period. The quotation with discounted premium will only be valid until 30th June 2021. If you would like to enjoy the premium discount, you need to confirm the purchase latest on 30th June 2021.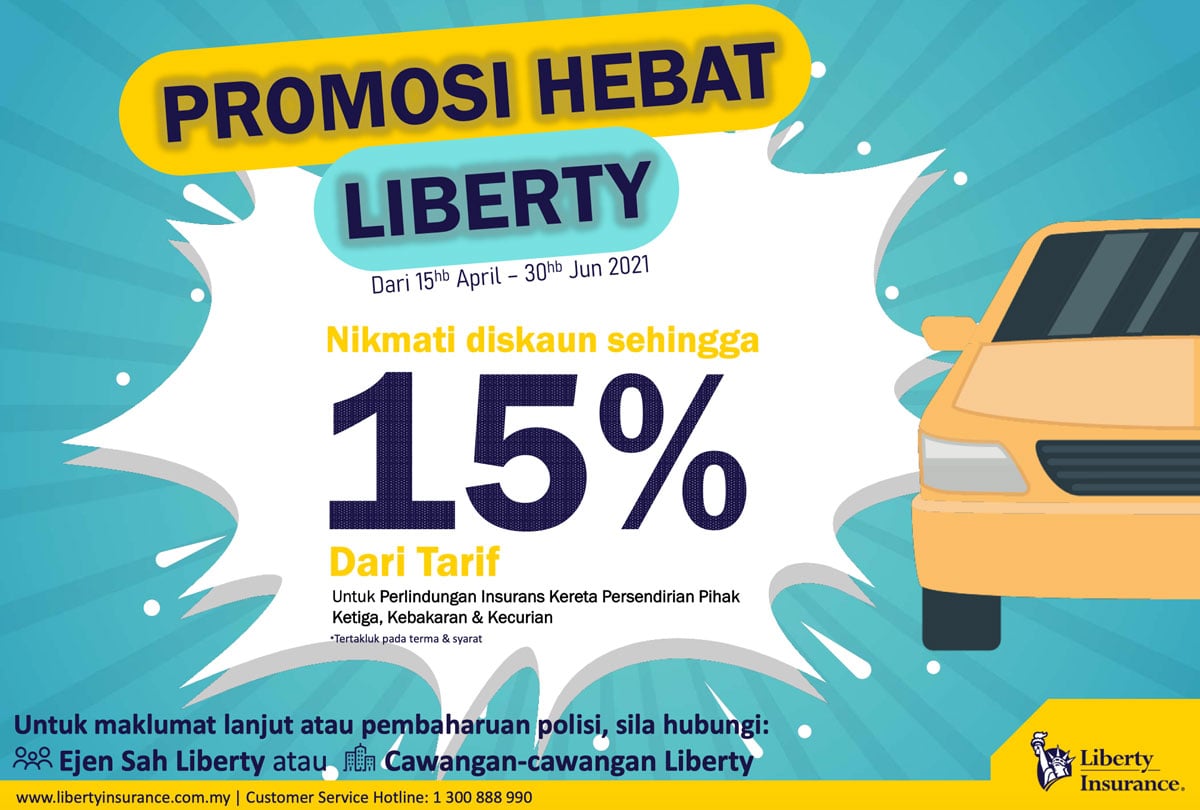 Berapakah diskaun yang akan saya peroleh?
Polisi yang dikeluarkan dalam tempoh promosi premium ini akan menikmati diskaun sehingga 15% dari tarif berbanding dari jumlah yang sepatutnya mereka bayar. Potongan diskaun masih tertakluk pada peraturan BNM yang melibatkan pengiraan premium maksimum dan minimum yang boleh dikenakan oleh sesebuah syarikat. Premium tersebut akan mendapat diskaun dan tidak akan dipaparkan sebagai item yang berasingan di dalam polisi.
Apakah yang harus saya lakukan untuk menikmati diskaun premium ini?
Sila hubungi ejen sah Liberty atau cawangan-cawangan Liberty untuk mendapatkan sebut harga.
Berapa lamakah promosi diskaun ini akan berlangsung?
Promosi premium akan berlangsung untuk masa yang terhad iaitu mulai 15 April 2021 hingga 30 Jun 2021.
Saya baru sahaja menerima Notis Pembaharuan, adakah ini jumlah premium yang harus saya bayar?
Tidak, tiada diskaun harga yang dikenakan untuk premium di dalam notis pembaharuan. Sekiranya anda ingin melihat samada promosi diskaun harga dikenakan atau tidak, anda perlu mendapatkan ejen anda untuk menyemak senarai pembaharuan untuk menjana semula premium yang baharu dengan diskaun, sebelum tempoh promosi premium berakhir.
Saya baru sahaja memperbaharui polisi sebelum tempoh promosi premium ini tetapi tarikh kuat kuasa polisi adalah dalam tempoh promosi premium. Bolehkah saya mendapat diskaun?
Kami memohon maaf, polisi yang telah dikeluarkan tidak layak mendapat potongan harga.
Mengapakah premium tahun ini masih lebih tinggi daripada tahun lalu walaupun terdapat diskaun?
Bayaran premium mengambil kira risiko yang dijangka oleh syarikat pada setiap tahun. Terdapat pelbagai faktor yang boleh menyumbang kepada perubahan premium. Sebagai contoh, tingkah laku pemandu, rekod tuntutan dan kenaikan kos pembaikan dan perubatan boleh mempengaruhi bayaran premium yang memberi perlindungan di masa hadapan.
Bolehkah saya membeli atau memperbaharui polisi yang tarikh efektifnya selepas tempoh promosi premium?
Ya, semua polisi boleh dibeli atau diperbaharui hingga 90 hari sebelum tamat tempoh. Polisi yang dikeluarkan dalam jangka masa promosi berlangsung akan mendapat diskaun harga sehingga 15%.
Apakah yang akan berlaku dengan sebut harga yang diterima dari ejen setelah promosi premium berakhir?
Sebut harga yang disimpan akan tetap berada di dalam sistem tetapi kadar premium standard akan diaktifkan semula setelah tempoh promosi premium berakhir pada 30 Jun 2021. Sekiranya status sebut harga disimpan sebagai muktamad di dalam sistem, maka premium yang telah diberi diskaun sebelumnya akan dikekalkan sepanjang tempoh sah sebut harga.
Saya telah mendapat sebut harga dengan diskaun dari ejen saya. Bilakah tarikh terakhir untuk saya melakukan pengesahan pembelian?
Sila maklum bahawa diskaun harga hanya berlangsung untuk masa yang terhad. Sebut harga dengan diskaun hanya sah sehingga 30 Jun 2021. Sekiranya anda ingin menikmati diskaun premium, anda harus melakukan pengesahan pembelian polisi dengan kadar segera.