Published on 18 Febuary 2021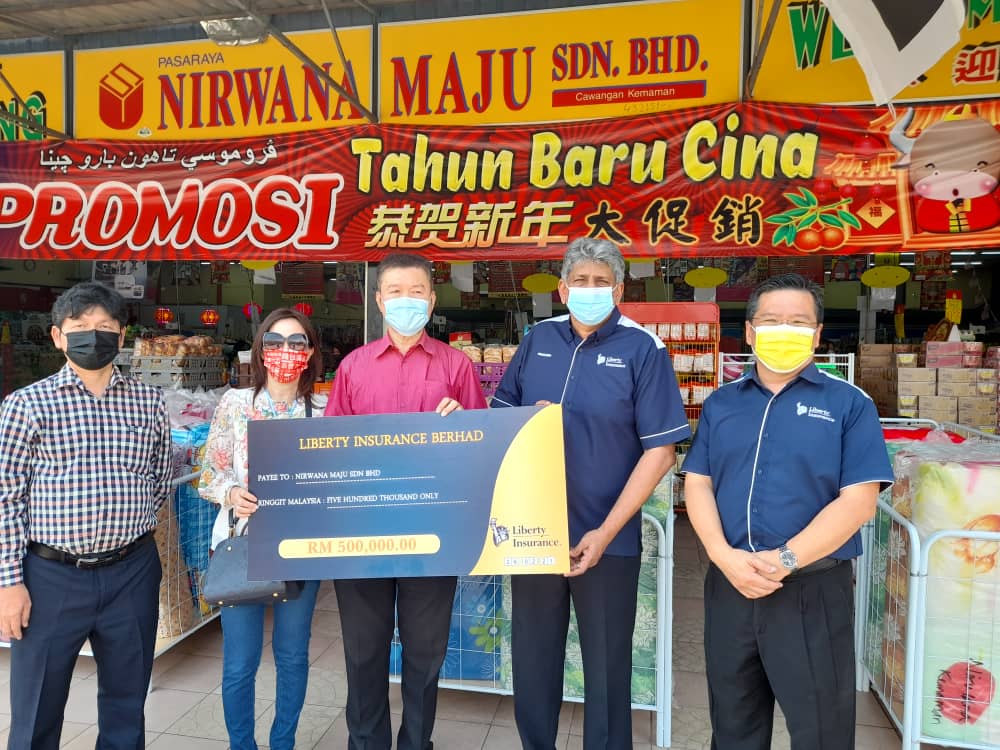 KUALA LUMPUR, 8 March 2021: When the recent Northeast 'winter monsoon' ravaged the country, many households and businesses - already reeling from the effects of COVID-19, were left in a lurch. One such enterprise that took a severe hit was hypermarket retail chain outlet, Nirwana Maju (Kemaman) in Cukai, Terengganu, resulting in damages exceeding RM1.7 million.
As of 26 February 2021, Liberty Insurance will make a sizable payout of RM2.1 million to individuals and businesses affected by the flood. Of the total payout, RM1.7 million will be paid to Nirwana Maju as part of the insurer's disbursements to six businesses nationwide for flood claims following the devastating effects of the recent monsoon season.
"We are cognisant of the need to help businesses, particularly essential services like Nirwana's hypermarkets to speedily resume operations to cater for the demands of local communities who need to get back on their feet to provide food and basic supplies for families at the height of this pandemic. As a responsible insurer, we hastened and deployed our teams to expedite investigations and claims. Most of the claims received were processed within weeks and the interim payments were well underway. The company aims to settle the existing flood claims by 31 March 2021," said Liberty Insurance Berhad's Chief Executive Officer, Mr Puneet Pasricha.
Terengganu was among the states in Malaysia worst hit by the recent floods. They were affected by at least three waves of floods between November 2020 and January 2021, leaving more than 11,800 people from 2,900 over families in the state displaced from their homes.
According to Nirwana Group Sdn Bhd's Director Dato' Sri Ng Chong Keong, "After continuous heavy rains for days, it started to flood at the premises. At the height of the flooding on 7 January, floodwater levels reached two feet high and remained at that level for a few days before finally receding. The muddy flood water wreaked havoc resulting in up to 40% damaged stock-in-trade, business equipment, furniture as well as fixtures and furnishings. We had to act quick as the local community in Kemaman are dependent on us for their daily supplies as they too were as severely impacted by the floods."
"Liberty Insurance's swift action in assessing the damages and processing our claims promptly was key to helping us have a peace of mind to focus on recovery efforts and resume operations for the sake of the local community here," said Dato' Sri Ng Chong Keong, adding the hypermarket suffered similar flood loss in 2014.
Policyholders looking to make their flood claims can contact the company's Customer Care Line (1-300-888-990).
For more information on Liberty Insurance, check out: www.libertyinsurance.com.my.